Celebrating National Pasta Day in Miami Beach
It's almost National Pasta Day! October 17th, we celebrate one of the best, most influential foods in the world of Italian cuisine (and all cuisine!), so come join us for the pasta dish of your choice!
Pasta is an ancient food and one of we still enjoy all over the world today. It actually has its roots in early Roman meals. After all, pasta is just "dough" in Italian. Early Romans mixed water with dough to create it. In the 1700s, the food was finally brought to America by Thomas Jefferson after he tasted pasta on a trip to Italy. 
So Many Pastas, So Little Time
At Mercato Della Pescheria, pasta is one of the main dishes we serve (mamma mia, naturally! We're Italian, after all!).
Many of our handcrafted pasta dishes are favorites of our patrons, who often come all the way to our Miami Beach restaurant from around other parts of Florida and beyond just to nosh on our Gnocchi Pomodoro With Fresh Mozzarella or to lift their spirits with our Half Maine Lobster Linguini or Fettuccini Alfredo With Grilled Chicken (and there are many more where these dishes come from!).
Here in Miami, we're well-known as the go to restaurant for delicious pasta and Italian cuisine. Our restaurant serves our patrons market style, but that doesn't mean that you are purchasing your food up at the counter deli style. We come to you! Our restaurant is simply laid out in the traditional Italian market style, so you can always smell the fresh seafood, top-choice meats, and other high-quality ingredients as you walk into the restaurant. It's a setup our guests love — and we love to serve!
Don't Miss Our Cacio E Pepe Dish and Tableside Presentation!
If you've been looking over our Italian pasta menu (found below) and you still can't decide which dishes will be up your alley, may we make a suggestion? Our Cacio E Pepe Dish is one of our most famous dishes and a huge local favorite. Of course, it's absolutely delicious, but much of the reason people love it comes from the fact that we serve the dish tableside. In other words, the food is prepped, brought out to you in the dining room, and we provide tableside presentation so that you can see your dish being created right before your eyes.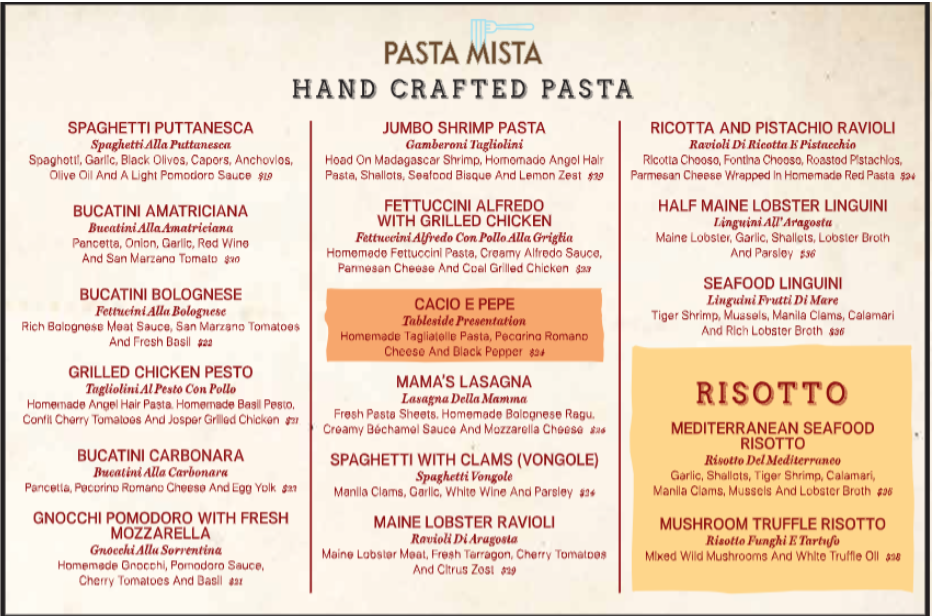 Our Pasta Menu
Cacio E Pepe features homemade tagliatelle pasta, pecorino Romano cheese, and black pepper — it's a dish you won't want to miss! Come join us for a bite during National Pasta Day in Miami Beach at Mercato Della Pescheria!